Shahid Kapoor and Mira Rajput meet 'teenage crush' David Beckham!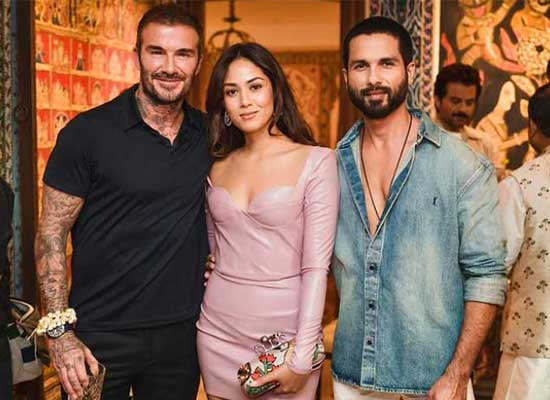 In Bollywood, Shahid Kapoor is among the most well-known figures. He recently went to Sonam Kapoor and Anand Ahuja's celebration with his wife Mira Rajput. David Beckham, the former professional football player, was the party's primary guest. Sonam gave her insights on the great sportsman's photo that the Farzi actor and Mira posted.
David Beckham, a former football player, is presently in India. He was spotted having fun with celebrities at the India vs. New Zealand World Cup semifinal in Mumbai. Following that, Beckham went to the party hosted by Sonam Kapoor and Anand Ahuja. Following their attendance at the celebration, Shahid Kapoor and his spouse Mira Rajput posted a photo of themselves with the great athlete on Instagram. The three people in the photo were Beckham, Shahid, and Mira and its caption read, "When me and the wife both met our teenage crush @davidbeckham"
Sonam responded in the comments section. She confessed her love for Mira and Shahid, and she posted, "Hottest couple in the house."
Guests at Sonam's celebration were Farhan Akhtar, Malaika Arora, Arjun Kapoor, and Shanaya Kapoor. Karisma Kapoor posted a photo of herself posing with Beckham on Instagram. The caption read, "Did it for the kids …Swipe Not really So warm and gracious #ForeverFan."
Sanjay Kapoor also posted a pic with the legend and posted, "Super evening at Sonam's and Anands with David, family and friends."