Shilpa Shetty and daughter Samisha twin in denim-on-denim outfits at airport!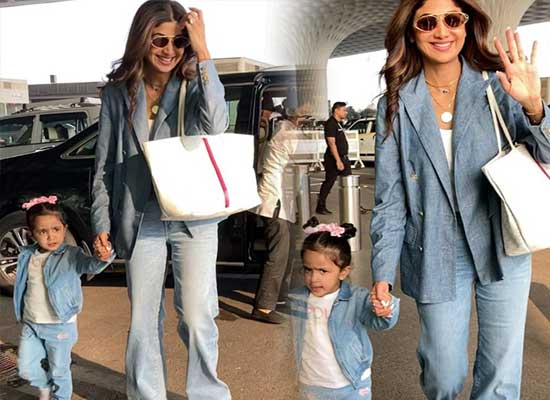 2009 saw the marriage of actress Shilpa Shetty to businessman Raj Kundra. When Viaan and Samisha, their children, were born, the couple was enjoying the happiness of marriage.
Shilpa Shetty and child Samisha were recently sighted at the airport. The mother and daughter team are completely commanding the stage in their matching denim ensembles. The actress and the paparazzi had a lighthearted back and forth.
This morning, Shilpa Shetty and her daughter Samisha were sighted at the Mumbai airport wearing matching ensembles, a stylish way to end the Diwali celebrations. The actress from Life In A... Metro looked stunning in matching outfits beside her cute little sister, capturing attention with their festive attire as they passed through the airport.
The actress exuded elegance even though Shilpa was only sporting a blue denim coat with a white top underneath and blue denim pants. A white tote purse, a golden neckpiece, and a pair of black sunglasses completed her ensemble.
Samisha was also spotted wearing identical clothes to her mother: a white t-shirt, blue denim shorts, and a blue denim jacket. She had two buns in her hair and a cute ribbon in a pink color. It's safe to say that the mother-daughter team is aiming high with their style game.