Kartik Aaryan to celebrate Virat Kohli's 49th century in the World Cup match against South Africa!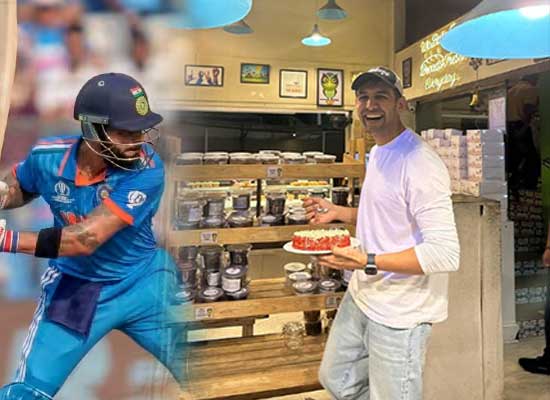 The whole country is riveted to their TVs to support the men in blue whenever India is playing cricket against any other nation. The Indian squad recently faced South Africa in the ongoing 2023 ICC World Cup competition. Virat Kohli scored his 49th century in that historic contest. Bollywood actor Kartik Aaryan was among the many cricket enthusiasts who were thrilled with Virat's incredible achievement. He celebrated Virat's century by indulging in a delectable cake.
Indian cricketer Virat Kohli celebrated his birthday on November 5 and offered his supporters the greatest present possible. In the World Cup match against South Africa, Kohli equaled Sachin Tendulkar's record with his 49th century. There should be a celebration for the exceptional achievement. Therefore, Bollywood star Kartik Aaryan seized the chance to splurge on an appetizing-looking cake and violate his diet.
The Dhamaka actor shared a photo of himself on Instagram with the biggest smile. The actor can be seen in the picture standing inside a well-known Pune bakery, carrying a spoon and a dish of what seems like exquisite cake. The actor opted for a more laid-back style for the day, looking polished in blue jeans and a simple white t-shirt with a cap. Sharing the pic, the actor wrote, "Virat ki century ho to cheating to banti hai."