Kangana Ranaut shares her views on 'Pathaan'!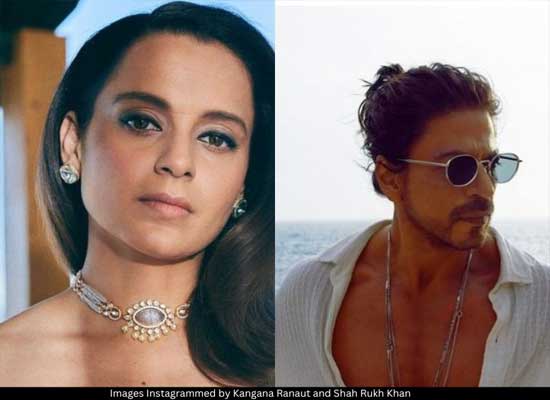 Kangana Ranaut made a return to Twitter a few days back and the actress has started stirring the pot already. A day after praising the box office collection of Shah Rukh Khan-starrer 'Pathaan', the 'Queen' actress said that looking at the storyline, the movie should have been called 'Indian Pathan'. Kangana posted a series of tweets, and in one of them, she said that 'Pathaan' might be a success, but the country will still chant "Jai Shri Ram".
"I do believe Indian Muslims are patriotic and very different from Afghan Pathans … the crux is India will never be Afghanistan, we all know what is happening in Afghanistan, it's beyond hell there, so apt name for the movie Pathan according to its storyline is the Indian Pathan," Kangana tweeted.
"Lekin all those who are having high hopes please note… Pathan sirf ek film ho sakti hai … goonjega toh yahan sirf Jai Shri Ram," she said in another tweet.
Kangana Ranaut also claimed that 'Pathaan' shows Pakistan and ISI in good light.
"Which shows our enemy nation Pakistan and ISIS (sic) in good light is running successfully, it is this spirit of India 🇮🇳 beyond hate and judgements that makes it Mahan… it is the love of India that has triumphed hate and petty politics of enemies," tweeted Kangana.
Earlier, while commentating on the success of 'Pathaan', Kangana had told reporters: "athaan acha kar rahi hai. Aisi films chalni chahiye aur I feel ki jo hamare Hindi cinema wale piche reh gaye hain, har insaan apne level pe koshish kar raha hai."
Anupam Kher, who is Kangana's co-actor in 'Emergency', also nodded along to what the actress was telling the reporters.
'Pathaan' is a part of Aditya Chopra's ambitious spy universe and has the biggest superstars of the country Shah Rukh Khan, Deepika Padukone and John Abraham in it.