Sara Ali Khan calls herself and Ibrahim Ali Khan 'hamshakal bacche' of Saif, Amrita!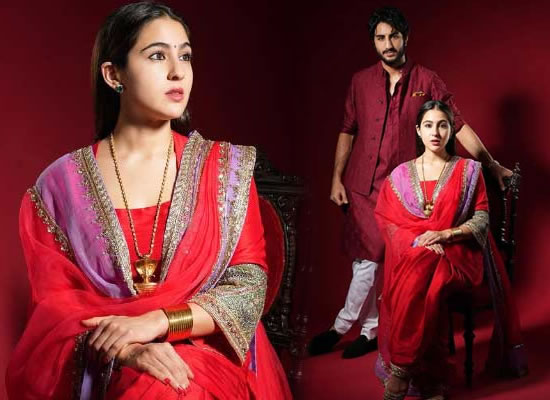 Sara Ali Khan has gained a reputation in Bollywood as a gifted actress with a unique sense of comedy. She recently made fun of her and her brother Ibrahim's striking likeness to their parents, Saif Ali Khan and Amrita Singh, on Instagram. Sara and Ibrahim have frequently received compliments on their attractiveness and uncanny similarity to their parents. Sara resembles Amrita, although Ibrahim is frequently referred to be Saif's younger brother.
She posted photos of herself and her brother Ibrahim on Instagram, and the sibling pair looked incredibly 'nawabi (royal)' in their traditional attire. Sara looked stunning in a crimson suit with golden embroidered details, while Ibrahim wore a maroon kurta and white pajamas.
Sharing a funny caption with the pics, she spoke about them being 'humshakals (lookalike)' of Humshakals' Saif and actress Amrita Singh. "Ek Tha Raja, Ek Thi Rani, Dono ke hue hamshakal bacche, That's it Khatam Kahaani (there was a king, there was a queen, they had lookalike children, that's it, the story is over)," posted Sara in the caption of the pics.
The brother-sister team has long been regarded as being exact replicas of their parents. But what drew our notice was that many followers were requesting Saif-Amrita to go online from their genuine account after Sara Ali Khan's Instagram post. A fan's comment read, "Amrita Singh and Saif asli account se aao ..!!"