Alia Bhatt to congratulate Team India on her social media!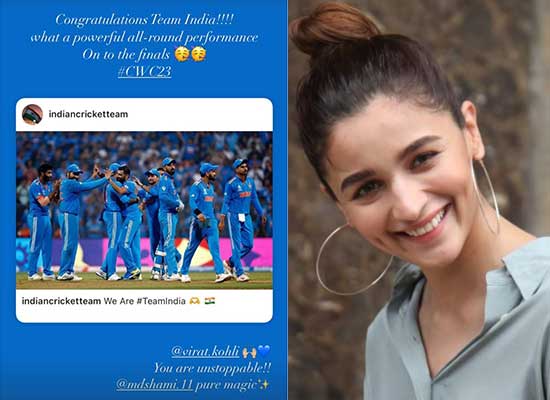 Enthusiastic supporters of Team India in the World Cup semifinals have their wishes come true. In the thrilling game versus New Zealand at Mumbai's Wankhede Stadium, the men in blue prevailed. Not only are many Bollywood celebrities expressing their congratulations to the winning squad on social media, but renowned actress Alia Bhatt has also expressed her heartfelt sentiments.
The recent World Cup semi-final between New Zealand and India was an emotional roller coaster. Nevertheless, Team India's diligence paid off, as they confidently earned a ticket in the 2023 World Cup event finals.
Popular Bollywood actress Alia Bhatt wished the winners a sincere happy Thanksgiving on November 16 via her Instagram account. Using her Instagram story to share a post from the Indian cricket squad, Alia posted, "Congratulations Team India!!!! what a powerful all-round performance On to the finals. #CWC23," along with two party emojis.
Virat Kohli and Mohammed Shami received further accolades from Alia Bhatt for their superb performances during the game and she posted, "@virat.kohli you are unstoppable!! @mdshami.11 pure magic," and added a blue heart, raised hands and a sparkle emoji.
Regarding her professional life, Alia Bhatt revealed that she will be working with Karan Johar's Dharma Productions to co-produce the movie Jigra through her production firm, Eternal Sunshine Productions. September 27, 2024 is the scheduled release date of the film.