Film Meri Pyaari Bindu's music is tuneful and melodious with song Mere Dil Mein, Phir Bhi Tumko Chaa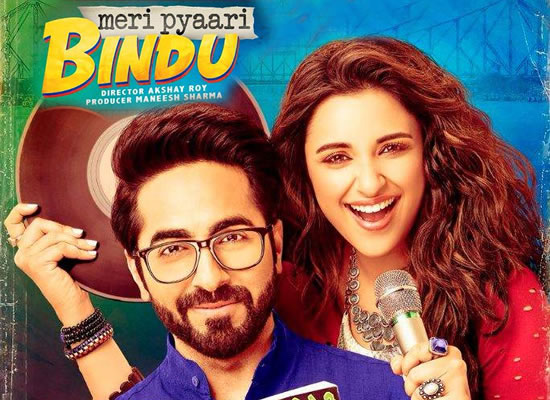 The YRF banner is famous for the memorable and melodious music for their films. After a while though quantity of movies coming from the premium production house continued steady but the quality of music became unpredictable. There was an amalgam of some excellent, good and plain-average music that started hitting the stands. Though last year they did have a biggie in Vishal-Shekhar's score for Sultan, one keenly awaited what Sachin-Jigar (along with lyricist Kausar Munir) had to offer for their latest offering, Meri Pyaari Bindu.
The album begins with song Ye Jawaani Teri. Appreciatively, the music turns out to be quite appealing right from the beginning, what with Nakash Aziz and Jonita Gandhi sung Ye Jawaani Teri making a point at the very onset. Set in a retro mood with some YRF style fusion coming into play as well, the song shows a different side of both Nakash and Jonita who shine in their rendition. Good credit to the whole musical team for making 'Ye Jawaani Teri'.
The next song is Arijit Singh's Haareya. The love song is just the kind that would make hearts melt and it is composed in such a heart-warming way that you immediately remember the one you love. Priya Saraiya's lyrics are as filmy as it gets and with a very real picturisation on Ayushmann Khurrana with a different style of choreography coming into picture.
The next song Maana Ke Hum Yaar Nahin is in the voice of debutant singer Parineeti Chopra. Sachin-Jigar score a hat-trick in Meri Pyaari Bindu with each song turning out to be better than the one heard before. Well, she makes a striking impression and how as there is no false note in the entire duration that the song plays. This song is tuneful and worthy to listen.
The next one is Sachin-Jigar's Iss Tarah, you are reminded of the opening notes of Yaar Bina Chain Kahan Re (Saheb). As for the singing part, it is wonderful to see both Clinton Cerejo and Dominique Cerejo bringing up the tempo for 'Iss Tarah' that maintains a good pace throughout and finds it's well deserved place in the album.
The album ends with the Bengali-Hindi track Khol De Baahein which has a beautiful sound of guitar accompanying throughout its three minute duration. The singer chosen for the part is truly apt too as Monali Thakur is the one to come behind the mike. She does complete justice to the lyrics that have been put together by Kausar Munir and Rana Mazumder.
Film Meri Pyaari Bindu is a praiseworthy soundtrack and is the best to arrive since the release of Ae Dil Hai Mushkil.
The songs Mere Dil Mein, Phir Bhi Tumko Chaahunga and Baarish are pleasant and tuneful numbers.